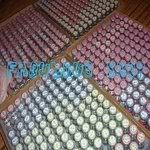 FABULOUS LENS
CONTACT LENS RM35
SPECIAL PRICE FOR DEALER!!!
BELOW THAN RM25!
Your link address :
http://fabulous-lens.blogspot.com/
Your blog category : Others
Write Your category (If your blog's category more than one OR for others Category ) : ContactLens
Your Name : Yasmin
Email :
fabulouslens@yahoo.com
Phone No : 013 3943924/017 3180380
How do you know about this Portal? : Friend's Blog
Already be our fans and followers? : Yes - Thanks from PNA
Give some brief about this Portal ( appreciated if you can give some suggestion to us ) : terima kasih kerane iklankan blog saye yg lain (FABULOUSHOPAHOLICS).
perniagaan saye bertambah baik ;)
sekarang saye menjual contact lens pulak..
tq,tq,tq!!!